Transdniestria (officially called the "Dniester Moldovan Republic) is a separatist territory with an uncertain future but with all the trappings of a State including award ceremonies (see this link a for facsinating article on the situation there). Reputedly medals are made in Russia but they replicate Soviet times. They are awarded with pomp by the likes of self-proclaimed "President" Mr. Igor Nikolaevich Smirnov, the Minister of Defense Luitenant General S. Chazheev or MGB (KGB if you like) General Antifeev alias Shevtov who is wanted by Interpol. The are generally quite poor in design and quality but still worth collecting. Given the strong and pervasive atmosphere of the Soviet system throughout this stretch of land (and a population still appropriately intimidated by the secret services who continue to work with pride with the KGB name and methods). I also add one local medal and some rare awards to Black Sea Cossacks, as well as a couple of mementos like election posters and other works of local art!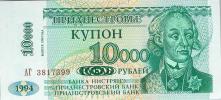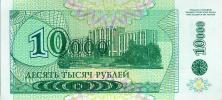 Above is the Emblem of the "Republic" flanked by the former 10.000 Kupon (Ruble) banknote. When I lived in Moldova there were 3-6 million to a US dollar. If you look carefully you will not fail to notice that these notes used to be worth 1 Rubl and then four zeros were added as was the Russian text "ten thousand". The "Prezident" regularly wins the elections with over 90% of the vote. His last electoral poster from 9 December 2001 with the caption Igor Nokolajevich Smirnov - our Prezident.
Collecting awards from this part of the world is not easy but some pieces have found their way into my collection (see Home page and pull down menus medals\transdniestrian or the links below). Just two examples above: left is the Medal Defender of Transdniestria and on the right the Medal 10th Anniversary of Transdniestria.
See also my collection of Transdniestrian coins!
For more snapshots of veterans and myself from 9 May 2002 in Chisinau (Moldova) see News 2 page.
Below is an award document (A4 format in reality) for the defense of Transdnistria depicting the coat of arms in colour of the former Soviet Moldovan Socialist Republic. Click on thumbnails.
For photos from Tiraspol and information about Transdniestria see News 4!