TRANSDNIESTRIAN
Click on award for
recto/verso or use Flash

Counter number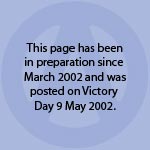 | | |
| --- | --- |
| 10th Anniversary of Transdniestria | |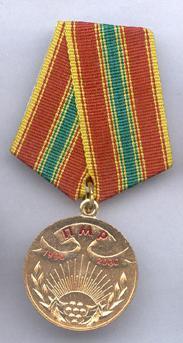 Medal established by Presidential decree no. 27 of 1 February 2000. Made of brass (latun), 33 mm in diametre. This is quite a rare medal as Transdniestria is a separatist territory with all the trappings of a State including award ceremonies. Reputedly medals have been made in Russia and are awarded with pomp by the self-proclaimed "President" Mr. Igor Nikolaevich Smirnov.
I am trying to find out how many people received this medal.
Source: State Awards of the Transdniestrian Moldovan Republic, Tiraspol 2004 (in Russian), pp.38-39.

| | |
| --- | --- |
| A | Abundant, readily available, often in wholesale quantities. |
| C | Common, always available. Occasionally in quantity. |
| R1 | Usually available without a long delay. Difficult to find in quantity. |
| R2 | Scarce to rare, less seldom available. |
| R3 | Rare. Difficult to find. |
| R4 | Very rare. Demand outstrips supply, and specimens, when available are often eagerly sought. |
| R5 | Extremely rare and seldom available. Collector may have to search for a few years to locate one. |
| R6 | Of the highest rarity. Very difficult to obtain. |
| R7 | Almost never available. Most collectors will not have a chance to acquire these pieces. |
| R8 | Never been on the market. Almost impossible to obtain. |
| R* | Not available for collections. |