TRANSDNIESTRIAN
Click on award for
recto/verso or use Flash

Counter number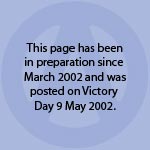 | | |
| --- | --- |
| Medal of 10th Anniversary of Transdniestrian Army | |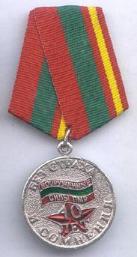 Medal established by Presidential Decree no. 380 of 26 July 2001. It is silver coloured, 35 mm in diametre and the text around the flag and matching red star asserts "Without Fear and Hesitation".
This is a rare medal as Transdniestria remains a separatist territory with an uncertain future but with all the trappings of a State including award ceremonies. Reputedly medals are made in Russia. They are awarded with pomp, sometimes by the self-proclaimed "President" Mr. Igor Nikolaevich Smirnov or the Minister of Defense Luitenant General S. Chazheev. I am trying to find out how many people received this medal.
Source: State Awards of the Transdniestrian Moldovan Republic, Tiraspol 2004 (in Russian), pp.40-41.

| | |
| --- | --- |
| A | Abundant, readily available, often in wholesale quantities. |
| C | Common, always available. Occasionally in quantity. |
| R1 | Usually available without a long delay. Difficult to find in quantity. |
| R2 | Scarce to rare, less seldom available. |
| R3 | Rare. Difficult to find. |
| R4 | Very rare. Demand outstrips supply, and specimens, when available are often eagerly sought. |
| R5 | Extremely rare and seldom available. Collector may have to search for a few years to locate one. |
| R6 | Of the highest rarity. Very difficult to obtain. |
| R7 | Almost never available. Most collectors will not have a chance to acquire these pieces. |
| R8 | Never been on the market. Almost impossible to obtain. |
| R* | Not available for collections. |