MEDALS
Click on award for
recto/verso or use Flash

Counter number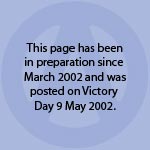 | | |
| --- | --- |
| For the Victory over Germany | |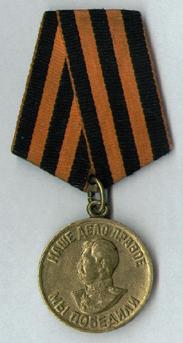 Some 14.9 million were issued to soldiers and officers since 9 May 1945 (immediateltely after the war some 13.66 million awarded). Medals issued before 5 February 1951 had to be returned upon death of the holder. There are four variations distinguished by their ring.
This is variation 1 that had a soldered ring and hanger from a heavy metal with two layers (awarded 1945-46). This is sub-variation 2 and is distinguished by more space on the reverse between the letter "E" in the word "VOJNE" and the surrounding circular text (the sub-variation 1 has less space).
Subsequent variations had the ring as part of the medal. Variation 2 had one layer heavy suspension and was issued 1946-48. Variation 3 the ring was flat (also 1946-48) and variation 4 had a round ring that differed in thickness, the position of the ring above the circular text (between the letters "e" & "l", above "l" and between "l" & "o") and with an alluminium suspension (issued after 1948). Variation 5, if its not a fake, has a different colour, its silver.
See also the "Decree" of the USSR Presidium of the Supreme Soviet that instituted the medal "For Victory over Germany".
| | |
| --- | --- |
| A | Abundant, readily available, often in wholesale quantities. |
| C | Common, always available. Occasionally in quantity. |
| R1 | Usually available without a long delay. Difficult to find in quantity. |
| R2 | Scarce to rare, less seldom available. |
| R3 | Rare. Difficult to find. |
| R4 | Very rare. Demand outstrips supply, and specimens, when available are often eagerly sought. |
| R5 | Extremely rare and seldom available. Collector may have to search for a few years to locate one. |
| R6 | Of the highest rarity. Very difficult to obtain. |
| R7 | Almost never available. Most collectors will not have a chance to acquire these pieces. |
| R8 | Never been on the market. Almost impossible to obtain. |
| R* | Not available for collections. |