MEDALS
Click on award for
recto/verso or use Flash

Counter number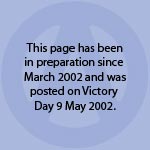 | | |
| --- | --- |
| 20 Years of the Worker's and Peasants' Red Army | |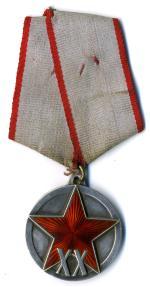 The jubilee medal "20 Years of the Worker's and Peasants' Red Army" (Юбилейная медаль "XX лет Рабоче-Крестьянской Красной Армии"; Yubilejnaja medal "XX let Raboche-Krest'janskoj Krasnoj Armii") was instituted on 24 January 1938. Awarded to Commanders of the Soviet Army and Navy for 20 years of service and also to all who were decorated with the Order of the Red Banner during the Civil War. Quite rare as it was to be returned upon death and many did not survive Stalin's purges of the officers corps before WWII.

This is type 2 (no longer numbered as was type 1) with a pentagonal hanger (it was to be from a heavy metal - two layers - missing here) issued after 19 July 1943.
Type 1 was suspended on a square hanger with a red ribbon, attached by screw (known number range of 863 – 37672).
Ribbon to medal:

| | |
| --- | --- |
| A | Abundant, readily available, often in wholesale quantities. |
| C | Common, always available. Occasionally in quantity. |
| R1 | Usually available without a long delay. Difficult to find in quantity. |
| R2 | Scarce to rare, less seldom available. |
| R3 | Rare. Difficult to find. |
| R4 | Very rare. Demand outstrips supply, and specimens, when available are often eagerly sought. |
| R5 | Extremely rare and seldom available. Collector may have to search for a few years to locate one. |
| R6 | Of the highest rarity. Very difficult to obtain. |
| R7 | Almost never available. Most collectors will not have a chance to acquire these pieces. |
| R8 | Never been on the market. Almost impossible to obtain. |
| R* | Not available for collections. |